We're all fucked in the end anyway. RIP Mannoroth!
Rube-golderberg strat P4 and achieve victory! Mannoroth and got 12/13M. To the flow chart everyone to find out what happened!
Mannoroth was a pretty cool fight. But touchy as hell. Lots of tricky little timings. Very comp sensitive. Very timing sensitive. Tight DPS requirements (with respect to a certain window). We did well on it! Except for the
little
detail of P4 Gazes.... which well... Pete came up with a strat and it makes a lot of sense! It's complicated and unwieldy, but it worked better than what we had (hope for the best) and got the kill!!!! Well for the kill.... yeah... it worked... after that though? We'll come back to that later! This is what Krauth made to catch the guild mood when the strat was being explained... and well... the strat worked anyway!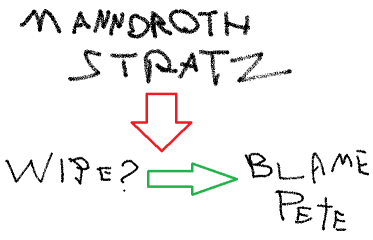 Yeah we got funny guys. Great playing everyone! And great save there Pete!
But really, Mannoroth is a nuancey as fuck and quite challenging. We rejigged the pacing of the fight to the very end, to go from trying to hit narrow DPS windows (not too much DPS and not too little) from 10 percent away, to something much more manageable. Folks really got in a groove and execution all around looked very solid. And as for P4... the first P4 we didn't lose anyone early, the boss went down. It was overall just bizarre to say "stop DPS" to not push the boss at a bad time, and then tell folks to go berserk in Phase 4.
It's worth commenting on how hard Mannoroth fucks the tanks (Arij and Gwee). And how much Wrath sucks in Phase 4. And gazes in Phase 4. And the timing of the pushes, which have to be on the right side of certain felseekers. All in all, very cool encounter for the second to last one. Fight of the tier? Probably not. But way more too it than Heroic and what it looks like first glance. Great job enduring all the changes and long nights on it Team Tyranny!
Onto Archimonde!
Also Tyranny is recruiting! Come join our fun, hard working, 16 hour/week hardcore progression guild! Looking for any DPS who has is capable, motivated, and has a great attitude and mindset!
Fullsize Kill Image
Fullsize Front Page Image